Forgings & Forging Manufacturers
Forgings are metal parts produced through a forming process in which the metal is given a particular shape through the application of a compressing force. The pressure causes plastic deformation of the metal and alters the grain flow to follow the shape of the part. This gives the part a more dense structure and increases its directional strength. Although the metal is often preheated prior to the forging process, it is never melted or poured as in the die casting process.
Forging companies work with a broad range of metals to create all sorts of metal forgings, including aluminum forgings, brass forgings, copper forgings, titanium forgings, alloy forgings, stainless steel forgings, carbon steel forgings, and nickel forgings. Closed die forging and open die forging are the two primary types of forging, while drop forging, press forging, roll forging, hand forging, hot forging, warm forging and cold forging refer to various forging methods. Because forging produces the strongest and most reliable metal products available, forgings are frequently used as components where reliability and human safety are imperative, such as in airplanes, automobiles, tractors, ships, material handling equipment, engines, tools, missiles and much more. Industries that make frequent use of forgings include aerospace, national defense, automotive, agriculture, construction, mining and general industrial equipment.
Some Leading Manufacturers
Jefferson, OH | 888-536-3674
Ken Forging is a family-owned, fully integrated metal working company! We offer the widest selection of forged industrial hardware! Ken Forging has a fully stocked inventory and can offer same day shipping on many stock items! Our company is committed to high quality and total customer satisfaction! All of our products are proudly made in the USA! Call us today for more information or visit our website!
Lewis Center, OH | 740-201-8112
MES, Inc. is a trusted manufacturer of high quality forgings. We provide forgings to companies in many different industries, including the lighting, automotive, agriculture, and many other industries. We are proud of our personal service, high quality workmanship, and competitive prices. We are an ISO 9001:2008 certified company, and we are committed to our customers' success. Call us today for more information!
Cleveland, OH | 440-250-1900
Here at Ferralloy, we have manufactured and supplied metal forged products for more than 30 years. Our forgings are used in the aerospace, military, medical, automotive, and food service industries, and we are confident we can create a forged metal solution for you as well. For your metal forging requirements, trust the experts at Ferralloy! Give us a call or visit our website to discover our complete offering of products and services!
Closed die forging, also known as impression die forging, involves the pressing or hammering of preformed metal blanks, or ingots, into a die or set of dies shaped as a three dimensional negative of the part to be produced. In this type of forging the hammer and anvil fully enclose the workpiece, forcing the metal to fill all areas of the die. Closed die forging is the more common forging method, since it can produce a nearly limitless variety of 3-D shapes, and is capable of producing complex parts with tight tolerances. Often, closed die forging requires that the workpiece be moved through a series of impression cavities, first forming the rough shape, then proceeding until a finisher cavity turns out the final product. Open die forging, on the other hand, uses simply-shaped (flat, concave or convex), non-encompassing dies to hammer or press a metal workpiece into a certain shape. The product usually requires numerous strikes or presses to take on its intended shape, so an operator must repeatedly reposition and orient the workpiece so that the die will fall successively on the next side or section of the workpiece. Open die forging is used to produce a large variety of forms such as round, rectangular and hexagonal bars, beams, profiles and other more basic shapes. Since tooling tends to be simpler and lower in cost, open die forging is better suited for lower volume production and creation of unique items. Ring rolling is a distinctive type of open die forging used to produce seamless rolled rings. It involves forming a donut-shaped piece of metal into a seamless cylindrical or ring shape by turning it and simultaneously exerting pressure on the inner and outer dimensions of the ring. Drop forging refers to any forging process that operates by bringing down a large machine-operated hammer.
Forgings can be produced in three different temperature zones. Hot forging is the most common and is done at temperatures as high as 2300°F, above the re-crystallization point of the metal but below its melting point. Warm forging is done above room temperature but below the re-crystallization temperature of the metal, up to several hundred degrees. Cold forging is done at ambient temperatures. The cold forging process is only possible with certain metals and relatively small workpieces, usually 10 pounds or less; but it has the benefit of producing even stronger products, because of the work hardening that takes place during the forging. Cold forging processes include bending, cold drawing, cold heading, coining and extrusions. Warm forging has many of the advantages of cold forging, while slightly broadening the selection and size of metals that can be used. Hot forging is the most versatile method in terms of the size of parts it can produce, from a few ounces to over 25 tons, and in terms of the range of metals that can be forged. Hot forged items are also easier to subject to secondary processing and machining.
Forgings of different metals can have different benefits. Aluminum is easy to forge and has a good balance of low weight and high strength. Copper forgings have good conductivity while maintaining non-magnetic and non-sparking properties. Titanium has a high material cost but offers an excellent strength-to-weight ratio and resistance to corrosion. Carbon steel forgings provide good mechanical properties for a relatively low material cost, and respond well to heat treatment. Stainless steel has the properties of steel but adds corrosion-resistance. Nickel alloy forgings resist oxidation and are exceptionally stable at high temperatures. Regardless of the metal, however, forgings provide a cost-efficient alternative to casting, welding and fabrication. Forgings are extra strong, offer great design flexibility, require few secondary operations, produce a broad part size range and usually have very few defects. Due to the lack of internal gas pockets in forged products and materials, there is very little unexpected failure. The forging process is highly customizable, but can also produce consistent, repeatable results from part to part. All of these factors make forgings the safest, most economical and most effective metal components for many industrial applications.
Ken Forging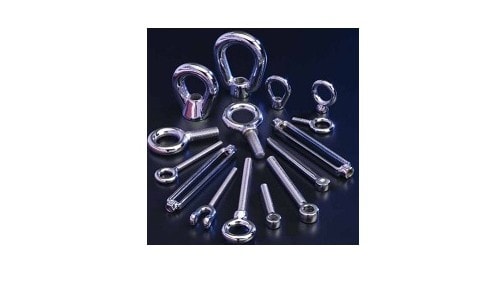 Forgings – Ken Forging